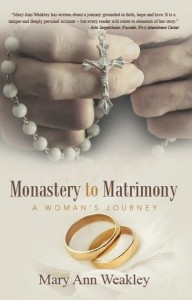 MY  MEMOIR 
Monastery to Matrimony, A Woman's Journey,  is the story of my search for adventure and for spirituality.  I entered a convent at the age of seventeen, right out of boarding school, which I also thought would be an adventure.
In the convent I adjusted to strict customs and a world of silence away from the temptations of the world. I experienced contentment and spiritual growth in the peaceful harmonious environment.  After twenty years, when confronted with a conflict, I made the wrenching decision to leave.
Outside the convent walls I faced the challenge of survival. Convent life is devoid of  worries about food, shelter, and income.  Monastery to Matrimony provides an ex-nuns's view through humorous situations incurred when dropped into a changed society, where I had no adult history.  I was an oddity to the world with a unique resume, a minimum wardrobe, and no household goods.  I received strange looks when I could not relate to music, movies,  or TV sitcoms of the fifties and sixties.
Anyone faced with a painful life change, whether domestic, religious, or occupational will find encouragement in my story as I overcame my fear of an unknown future.
"Every man and woman at sometime wonders if they have taken the right path. This story of a young woman's struggles is one we can all relate to. Written with humor and honesty, Monastery to Matrimony shares  a solution in this true story of a woman thrust into a new world."     –Mark H. Newhouse,  author of The Midnight Diet Club
Monastery to Matrimony is a new release at Balboa Press bookstore www.balboapress.com.   Balboa Press is a division of HAY HOUSE Publishing
A portion of the proceeds from sales benefits, Children of Pokot Education, COPE,  a non-profit organization that feeds and educates 650 students in Pokot, Kenya, Africa.
One Response to "My Memoir"